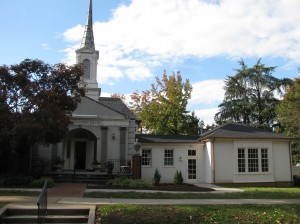 Sunday Service
Sunday services are held from 10:30-11:30am. The Bible Lesson-Sermon, read each Sunday in all branch churches, is comprised of readings from the King James Version of the Bible and from the Christian Science textbook, Science and Health with Key to the Scriptures by Mary Baker Eddy.
Wednesday Evening Service
Wednesday evening testimony meetings are held each week from 7:30 to 8:30pm. Readings are selected by the First Reader on a topic relevant to current affairs and/or daily living. The congregation is invited in the second half of the service to share healings, experiences, or remarks on Christian Science.
There is child care at both services. People of all faiths (or no faith) are welcome to attend both services.