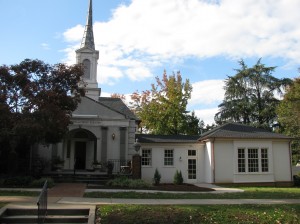 All are welcome to attend our services and meetings.
Child care is provided at all services.
Sunday Services
10:30 AM - 11:30 AM
Our pastor is the Bible and Science and Health with Key to the Scriptures by Mary Baker Eddy. Readers from Christian Science churches around the world read the weekly Bible Lesson during our Sunday healing service.
Wednesday Testimony Meetings
7:00 PM - 8:00 PM
Our readers select passages on topics relevant to current affairs and daily life. Join us for inspirational readings, followed by people giving testimonies on spiritual healing, experiences, insights, and inspiration.
Friday Community Prayer Circle
12:30 PM - 1:30 PM
Each Friday, we informally gather to share how healing is happening in our daily lives and how we can apply our learning to help others in our community and world.
Online Services
If you are unable to attend our in-person services and meetings, please join us online.

Join Zoom Meeting
https://us02web.Sundays (10:30 a.m.zoom.us/j/631349813?pwd=YVhoZDBna2ozTlBKb3YyOTQvcTNEQT09

Meeting ID: 631 349 813
Password: 038996
If you would like to be placed on our mailing list for weekly reminders of services and events, please email our Clerk at cscharlottesville@gmail.com